News

|

Monthly Update
January Update: It's Time to Repair the Damage to Federal Science
On Wednesday, the Biden Administration issued a memorandum on restoring scientific integrity in government science. The memo calls for federal agencies to develop strong scientific integrity policies that prevent political interference in research, guarantee that scientists can publicly speak about scientific results, and provide other vital protections for science.
Lauren Kurtz, our director, told E&E News that Biden's efforts build on Obama-era scientific integrity policies but "The last four years showed the process is far from done."
Read our thoughts on how this memo improves the federal scientific integrity landscape and the work that remains to ensure the best available science informs decision-making on crises like climate change and COVID-19.
And visit our library of scientific integrity resources to learn about the current policies at 12 federal agencies and see the free model language we developed to help institutions adopt strong scientific integrity policies.
Trump Appointees Further Harm the EPA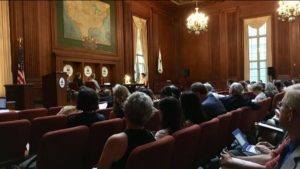 Attacks on science were common under the Trump Administration—we documented 331 during its four years—and these continued into its final weeks. One of the Environmental Protection Agency's (EPA) final actions under Trump was finalizing a rule that enables the agency to disregard vital science when taking regulatory actions.
The EPA argued that the rule improves "transparency" in agency science. As we describe on our blog, we've opposed this rule since the Trump EPA first proposed it in 2018 because it silences science by restricting the types of studies the agency can use in policy-making, generally to the benefit of industrial polluters.
A federal court ruled on January 27 that the Trump Administration broke the law when it rushed to make this rule effective immediately. The decision delays the start of the EPA regulation to February 5 and could help the Biden Administration dismantle it.
Please help us restore scientific integrity. A gift of any size will contribute to our efforts to reverse the deep politicization of critical federal research. Donate today.
>> Subscribe to our mailing list and we'll send this update right to your mailbox.