Resource

|

Guide
A Guide to Open Records Laws and Protections for Research Materials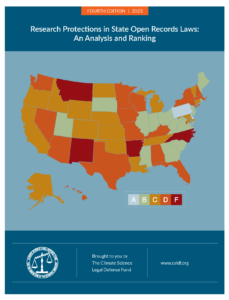 Open records laws are valuable tools for government transparency, enabling the public to seek documents related to state and federally funded activities. However, these laws are frequently misused to attack scientists who work on politically contentious topics such as climate change, pollution, and biomedicine in attempts to distort or undermine their research. The misuse of open records laws damages the scientific endeavor by diverting researchers' time, threatening their privacy, and chilling candid scientific discussions – while also adding nothing to the scientific pursuit as legitimate scientific research is, by design, already vetted via peer review and then publicly published. And by harming the scientific endeavor and interfering with scientific progress, the abuse of open records laws also harms human and environmental health.
Until the necessary protections for scientific research are included in open records laws, it is crucial that scientists understand the laws in their state. "A Guide to Open Records Laws and Protections for Research Materials" distills the open records laws in each of the fifty states and the District of Columbia into an easy-to-use reference that describes how each state's open records law can potentially be used to protect research materials.
The guide highlights categories of research records that may be vulnerable to an invasive open records request and lists areas where there are ambiguities. It also describes examples of how that state has treated specific records in the past. Included are practical tips for labeling records to help scientists categorize materials that may be protected from disclosure and maximize the chances that their records will remain safe.
Click on a state and its guide to open records laws will appear below the map. Click here to download the entire report.

Open Records Laws

State Name Overlay