News

|

Monthly Update
May Update: Help Us Protect the Scientific Endeavor
Will you help us protect the scientific endeavor? Right now, contributions to CSLDF will go twice as far.
In this pivotal moment, a group of our supporters is matching all donations – up to $40,000 – and we need your help to meet our goal.
Your gift helps us repair the damage to scientific research within the federal government and elsewhere.
Unfortunately, there's a lot to do – we documented 331 anti-science actions taken by the Trump administration. To date, the Biden administration has reversed only six of these. Read our May blog post about Biden's progress so far and the work that still needs to be done. We're pushing much-needed reforms, including urging Congress to pass the House Scientific Integrity Act.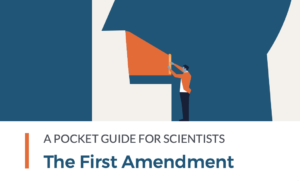 Meanwhile, attacks on science continue and with your support, we've published free resources for the scientific community, such as our new Pocket Guide to the First Amendment to help researchers know their rights. We're also providing legal support to scientists experiencing defamation threats, continued government censorship, and industry-funded attempts to stymie environmental research and climate advocacy.
Your support is invaluable as we work to protect the scientific endeavor. We're incredibly grateful to those who have contributed so far.
If you haven't donated yet, please make a gift today. A contribution of any amount helps us meet our goal of raising $80,000 to ensure scientists and their vital research aren't silenced.
All of us at CSLDF thank you for being part of our community.
>> Subscribe to our mailing list and we'll send this update right to your mailbox.