News

|

Monthly Update
April Update: Biden's First 100 Days in Office and Where He Stands on Science
Biden's First 100 Days in Office: Where He Stands on Science
Lauren Kurtz, our director, and Romany Webb, a Senior Fellow and Associate Research Scholar at the Sabin Center for Climate Change Law, wrote an op-ed for The Hill that evaluates how Biden has approached science during his first 100 days in office.
"Science will always be at the forefront of my administration." That was President Joe Biden's promise when he announced his pick for White House science advisor one week before taking office. In comparison, President Trump waited 18 months to nominate a science advisor; meanwhile, someone with no scientific training filled the role.
Things are already improving, but there's still a lot to do to restore the role of science in federal policy. We documented 328 anti-science actions taken by the Trump administration. So far, the Biden administration has reversed only four of these actions. Yet with climate change accelerating, and the possibility of another science-hostile administration in 2024, there's no time to waste.
We Support Stronger Whistleblower Protections
It's time to strengthen U.S. whistleblower laws, and we're proud to be one of 260 organizations who signed an April letter calling on President Biden and Congressional leaders to act on this issue. The Hill covered our letter, which recognizes that the whistleblowers who strengthen our nation's democracy, challenge abuses of power that betray the public trust, and catalyze accountability, need stronger legal protections.
He Was One of the First to Warn Us the World Was Getting Hotter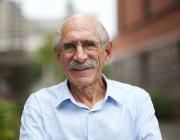 A fantastic profile of Michael Oppenheimer, one of our board members, was published this month in Reuters. The pioneering climate scientist discusses the triumphs and failures of his profession's quest to wake the world up to climate change and why he retains in faith our ability to address the climate crisis.
Help us restore scientific integrity. A gift of any size will support our efforts to reverse the deep politicization of critical research. Please donate today.
>> Subscribe to our mailing list and we'll send this update right to your mailbox.