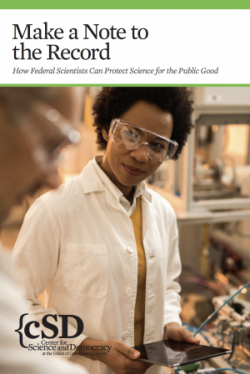 News

|

CSLDF Resources
How Federal Scientists Can Protect Science for the Public Good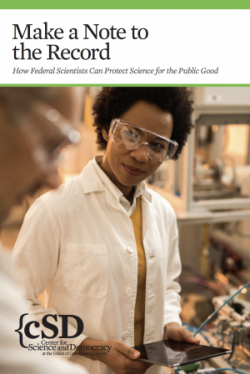 The new guide "Make a Note to the Record," produced by the Union of Concerned Scientists with contributions from our attorneys, is for federal scientists who are concerned about recent workplace changes that could imperil their agency's ability to carry out its mission and conduct science for the public good.
One simple action scientists can take to protect institutional knowledge and their agency's work is to keep detailed records. It is important for federal employees and grantees with science-related jobs to "make a note to the record" related to scientific integrity—that is, to document in real time any challenges, problems, or concerns related to an agency's ability to conduct, utilize, and communicate about science in service of its public interest mission.
Though the tips in the guide are written with scientists in mind, they may also be useful to other federal employees and contractors.
The guide and more information about this project can be found on Union of Concerned Scientists website. Get the guide →
Please contact our staff attorneys if you have questions about conditions in your workplace or what to do with the information you record: laywer@csldf.org.
The Government Accountability Project (GAP); Project on Government Oversight; and Public Employees for Environmental Responsibility (PEER) also contributed to the guide.