News
Silencing Science Tracker to Keep Tabs on Trump Administration Attacks on Environmental, Public Health, Climate Science

Columbia Law School's Sabin Center for Climate Change Law and the Climate Science Legal Defense Fund today launched an online resource tracking actions by the government to "silence science" since the November 2016 election. The launch of the Silencing Science Tracker coincides with the first anniversary of President Trump's inauguration on January 20, 2017.
The Silencing Science Tracker is intended to capture government attempts to restrict or prevent scientific research, education, discussion or the publication or use of scientific information. The tracker contains a table of entries, drawn from media reports, which will be updated on a regular basis. There is also a resources page, which contains links to other trackers and resources that complement the Silencing Science Tracker.
The tracker currently has 96 entries of actions organized by the following categories: 41 government censorship, 11 self-censorship, 15 budget cuts, 20 personnel changes, 5 research hindrance and 8 bias and misrepresentation. At this time, the tracker only records federal government attempts to silence science, but we plan to add state-level actions in the future.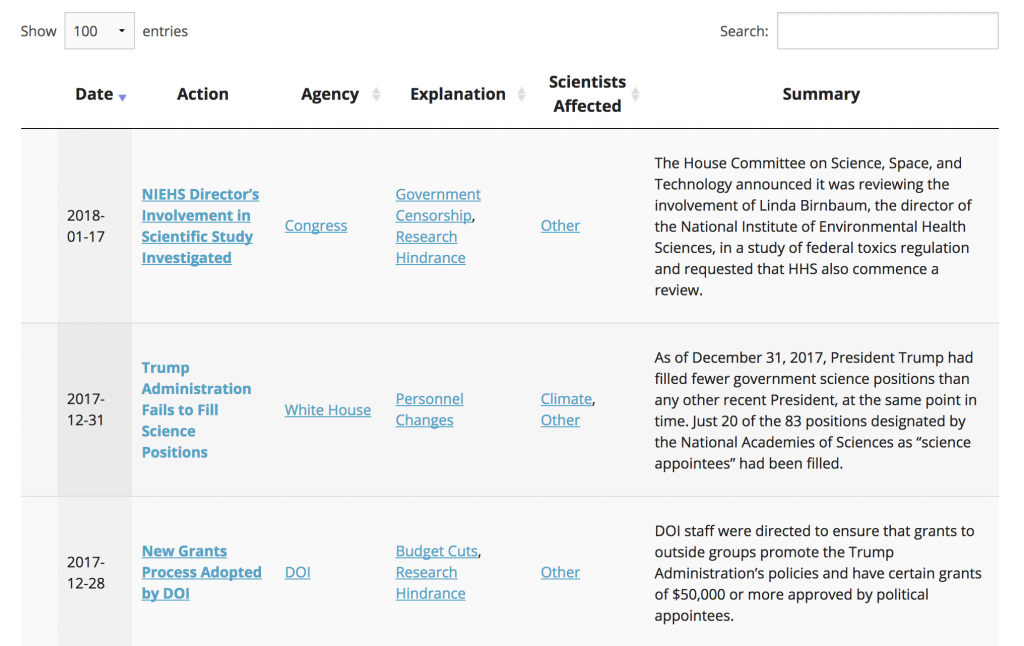 Michael Gerrard, Faculty Director of the Sabin Center and a professor at Columbia Law School, said, "Scientific knowledge is the very foundation of all environmental regulation. When the government ignores science, it's like a truck driver who wears a blindfold and drives based on what is whispered into his ear — dangerous and intolerable. The vital work of scientists must be supported, made public, and listened to. When government officials block this, we plan to shine a harsh light."
Lauren Kurtz, Executive Director of the Climate Science Legal Defense Fund, said, "Political and ideological attacks on science have a long and shameful history, and such attacks are the most dangerous when carried out or condoned by government authorities. Our tracker is designed to provide a tally of government-sanctioned threats to the scientific endeavor. We must watch out for efforts to curtail research, and speak up when we see attempts to silence science."
The tracker, related resources, and more information about this project can be found on the Sabin Center website. Go to the tracker →
Media contacts: Tiffany Challe (tc2868@columbia.edu / 212-854-0594) and/or Romany Webb (rwebb@law.columbia.edu / 212-854-0088) and/or Rebecca Fowler (rfowler@csldf.org / 503-347-4727) and/or Lauren Kurtz (lkurtz@csldf.org / 646-801-0853)